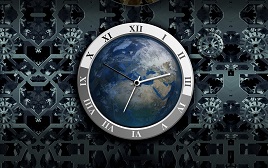 Time Management Fundamentals
Explore time management tips that focus on mental and physical productivity
About This Course
Effective time management can help increase productivity and reduce stress. These tutorials explore time management tips that focus on mental and physical productivity.

Learn how to get more done in the shortest time possible and avoid the obstacles and distractions that can get in the way of good time management. Dave gives practical strategies for increasing productivity in three main areas: developing habits to be more organized and reducing clutter in your workspace; staying mentally on task and eliminate the to-dos you have floating in your head; and developing a time budget to get the most done during your workday and focus on your most valuable activities.

gs.
Requirements
Add information about the skills and knowledge students need to take this course.
Course Staff

Staff Member #1
Biography of instructor/staff member #1

Staff Member #2
Biography of instructor/staff member #2
Frequently Asked Questions
What web browser should I use?
The Open edX platform works best with current versions of Chrome, Edge, Firefox, Internet Explorer, or Safari.
See our list of supported browsers for the most up-to-date information.
Question #2
Your answer would be displayed here.